One podcast hopes to provide a safe, open space for young people in Nepal to talk about menstruation, consent, and sexual and reproductive health. 
By Prasansha Rimal
It was 2009. She was a 14-year-old student from Gulmi who had just completed her SLC examinations. While waiting for the exam results, she was tasked with taking care of the neighbour's three children. Her neighbour was in the Indian Army and his wife had gone to India to take care of some documentation. So she often went over to the neighbour's house to take care of the children and even spent the night there.
One fateful night, as she lay sleeping, she heard the door open. A man entered and placed both hands on her mouth, preventing her from screaming out. The man raped her and before leaving, threatened to kill her if she ever told anyone. She later learned that the rapist had been the conductor of a local bus driver. One of the neighbour's children, who was also in grade 10, had fallen in love with the driver and had invited him over for the night. He had brought his conductor with him and that was who had raped her.
She spent the next weeks waiting for her period, afraid that there was now a child growing inside her. She felt her stomach and even measured it with a belt to see if it was growing. She contemplated suicide. She was just 14.
She never told her parents or anyone else. It took her 12 long years to even be able to write down just what had happened to her that night. Her story was published as a blog in March 2021 by Gulabi Sambad, a weekly podcast about sexual and reproductive health and rights.
Blog to podcast to broadcast
Over the past week, one woman's story of rape and sexual abuse at the hands of a beauty pageant organizer when she was just 16 has led to an outpouring of outrage and grief from many Nepali women. Protests have been organized and there is a movement to tackle such cases structurally – through changes to rape laws and by affecting a change in broader rape culture.
Amidst the current discourse on rape, one of the primary issues that have come to light is the lack of spaces to discuss sex, sexual and reproductive health, and issues of assault, harassment, and consent. Gulabi Sambad, a podcast hosted by Sabita Acharya and Karuna Devkota, aims to provide precisely such a space.
"There was a clear lack of space where teenagers, along with adults, could talk about sexual and reproductive health, share their experiences of menstruation, and have an open discussion on sexual assault and harassment," said 30-year-old Acharya.
When Acharya and Devkota first met, they were both working at Sathi Sanga Manka Kura, a popular youth-oriented radio show broadcast on Kantipur FM. (Sathi Sanga Manka Kura literally translates as speaking one's mind with a friend.) For the show, the two often travelled to remote villages and spoke to young people about issues such as sexual and reproductive health, educational opportunities, and life skills training.
The experience they gathered quickly led the two to realize how much the topic of sexual and reproductive health and rights was neglected in schools and in society at large. The duo then decided to create their own space to provide a platform where such issues could be discussed freely. Their attempt began with a blog, which then led to their podcast, which is now regularly broadcast on local radio every Friday.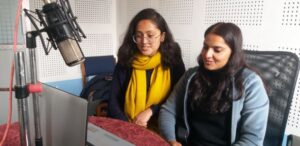 Anonymous queries
Both Acharya and Devkota knew since their days at Sathi Sanga Manka Kura that they wanted to work in sexual and reproductive health rights. But it was clear to them that addressing such issues in Nepal's remote areas would be a massive challenge, considering that even talking about the topic remained taboo.
"In schools, girls would not even raise their head to look at us when talking, so we would ask them to write down their queries anonymously and we would address their issues," said 26-year-old Devkota.
Their own experiences learning about their bodies had also been less than thorough. Acharya didn't tell her mother about her period until the next day as she was scared of what her brother would say. She was confined to a room and not permitted to leave for the duration of her period.
"My mother didn't teach me any basic hygiene during my first menstruation. I even missed three days of school," said Devkota. "Blood would often leak out in class and we would be compelled to clean the bench with water. Menstruation was never talked about as something natural."
Also Read: Is This Nepal's Nirbhaya Moment?
A colourful phase of life
However, it was a visit to a school in Dailekh that sparked the creation of Gulabi Sambad. Acharya had gone to Malika village in Dailekh to discuss self-identity and hobbies with young people, but also to talk about sexual harassment. She quickly discovered that female students struggled to attend classes due to chhaupadi practices in the area.
"The teachers asked what we would be discussing with their students. When we told them that we would be talking about sexual health, the school's health teacher started yelling at us," said Acharya.
According to the teacher, talking about sex was shameful and the duo would be "dishonoring" the students' families by discussing such topics.
"We later found out that he would skip chapters on reproductive health while teaching," said Acharya.
The incident only shed more light on how poorly educated young Nepalis were in terms of their own bodies and led the two to decide that it was time to create a safe, open space where young people from around the country could discuss such issues freely and openly. Gulabi Sambad was thus founded.
"We initially wanted to name it Yonika Kura, but something didn't feel right. Our show didn't solely focus on matters of sexual health, so during a conversation we had with Amar Neupane, the writer of Seto Dharti, he suggested we name it Gulabi Sambad," said Acharya.
According to Devkota, the 'gulabi' of the title denotes a curious, colourful phase of life, although not everyone experiences it in that way.
"The process of growing up and going through puberty is natural and beautiful. No one should be ashamed of it," said Acharya.
Come a long way discussing taboo
The current explosion of anger and dismay at the distressing prevalence of rape and abuse are partly due to the fact that Nepali society remains patriarchal and closed off to open discussions about subjects that are deemed to be taboo, like menstruation, sexuality, and reproductive health. This makes it difficult for minors to comprehend what has happened to them and when they do understand, they are unable to speak out about it due to fear of ostracization. Acharya and Devkota, with Gulabi Sambad, hope to change that.
"I have come across two types of people – one who doesn't consider such issues to be important enough to discuss and the other who wants to talk about them but doesn't know how," said Devkota.
Conversations are important, say the duo. So far, they've released 76 episodes, 15-20 minutes each, and have also started publishing blogs written by young women and men from across the country detailing their own stories and experiences. They've come a long way from recording in a public park to now at each other's homes and they only aim to continue.
"These days, there is more of a general awareness among the population regarding sexual health but the question is whether people are getting the right information," said Acharya.
This piece has been sourced from The Record.