The Koshi River can be a bane during monsoons. Now, in a unique experiment in early warning from ICIMOD, an alarm system programmed to alert communities as water levels rise is providing early warning to at-risk communities.
By Sharmila Dhungana
'We lose sleep when it starts raining.'
This is a common refrain among the communities peppered along Khando River, a tributary of Koshi, which cuts through Saptari District in Nepal's Terai. Flowing through China, India, and Nepal, the Koshi River sustains rich biodiversity and provides ecosystem services and much-needed irrigation for much of the year, but it can be unforgiving during the monsoon.
In many areas of the Koshi Basin, communities live in constant fear of recurrent floods that wash away lives, homes, crops, livelihoods, and livestock. In desperation, communities have at times needed to scramble and resort to extreme measures for prevention. In the monsoon of 2019, Launiya Village experienced heavy flooding, breaching embankments built to protect low-lying areas from being inundated. Attempting to stall the huge gush of water, villagers lay on the ground alongside each other, building a human embankment. Some rushed to get sandbags to ward off the overflowing water. Kamal Kumar Mandal, newly appointed Ward Chairperson of Launiya, woefully recalls the incident: 'We lay shivering on the ground at night – it was horrific.'
When the waters recede, their destruction is laid bare and communities have to adapt – some way or the other. 'The floods wipe away roads and paths,' shares Arun Kumar Mandal, Chairperson of Tilathi Koiladi Rural Municipality. 'Then I have to take longer routes to my office. What is usually a half-an-hour journey takes me hours.'
In Nepal's Koshi Basin, floods are an annual occurrence. Across the nation, floods cause over 175 deaths each year and economic losses exceeding USD 140 million. Furthermore, climate change and rising temperatures are likely to have a significant impact on the frequency and intensity of extreme flood events. With increases in extreme precipitation, flash floods are likely to become more frequent.
Bringing a sense of calm and preparedness
Disaster risk reduction is the need of the hour in low-lying, flood-prone areas in the Koshi Basin. Flood early warning systems, such as the Community Based Flood Early Warning System (CBFEWS), have proven effective across the Hindu Kush Himalayan region over the years. CBFEWS is an integrated system of tools and plans managed by and for communities, providing real-time flood warnings to reduce flood risks.
Among various stakeholders involved in the implementation of CBFEWS, the community is at the heart of the technology's impact and success. The system functions with a siren providing a warning when rising flood water levels are detected, with the information then being disseminated after verification by a caretaker to at-threat communities.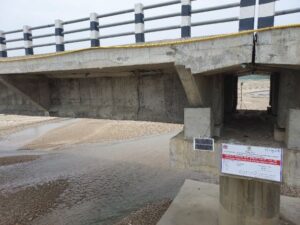 There is growing appreciation for CBFEWS among riverine communities. Mahendra Bikram Karki, a local from Lalgadh, Dhanusha District, has been volunteering as a community caretaker for the last seven years. He is an eager spokesperson for the technology's impact and effectiveness: 'Earlier, we needed to be on constant watch – we had to travel to the river with torches in the dark, keeping a lookout for a flood for hours on end. But now that information is more accessible. The system has brought a sense of calm in our community.'
Clear communication lines between upstream and downstream communities are crucial. Karki mentions that he is the first person whom people call once it starts raining. 'I understand the agony of people living down the river when it starts raining heavily. I take my role in relaying information very seriously, and I am happy that I do my part to help keep people safe', he shares.
The formation of task forces has helped the downstream population become more prepared for flood events. Task force members help spread the early warning information through different communication channels, and they also support with evacuation, prioritising vulnerable groups such as pregnant women, the elderly, and persons with disability. Moreover, downstream communities also participate in mock drills and routinely identify safe spaces for evacuation.
Impact and sustainability
Mahendra Bikram Karki recalls relaying timely information during a horrendous Ratu River flood event in 2017, which allowed community members enough time to evacuate. Even a few additional minutes matter a lot. It can ensure that people have enough time to gather their loved ones, collect their valuables, and move to a safer location before the inundation. With floods in Ratu River a frequent occurrence, the CBFEWS acts as a safeguard for 62,000 people across 32 villages in Mahottari and parts of Dhanusha. The chief district officer, Nepal Police, and Nepal Red Cross Society also rely on the system for data and information.
Nagdev Yadav, one of the local implementation partners from Community Development & Advocacy Forum Nepal (CDAFN), notes, 'People might have lost their lives due to floods, but with CBFEWS installed, people have not lost their lives due to lack of information.' However, implementation of CBFEWS is only just the beginning. For wider reach and impact of the technology, the focus must be on sustainability and scaling.
This is where a wide range of stakeholders play a crucial role. In addition to the community itself, other key stakeholders include nodal authorities, private manufacturing partners, and development partners. Active leadership from various stakeholders for the sustainability of CBFEWS has been encouraging. Tilathi Koiladi Rural Municipality (in Saptari), Sabal Nepal (a local NGO), and ICIMOD have joined hands to contribute towards a basket fund.  In addition, Rajbiraj Municipality and Rupani Municipality have also expressed their commitment to contributing to the fund. The fund is used for the repair and maintenance of the system, reimbursement for caretakers, and capacity-building and sensitisation workshops. Deepak Jha, from Sabal Nepal, explains, 'The local community and government recognise the value of CBFEWS, which is why they setup this fund as a sustainable functioning mechanism."
CBFEWS is clearly an important mechanism for disaster risk reduction – bringing together communities, local governments, and development organisations to combat the omnipresent threat of floods. Looking to the future, the system needs greater upstream–downstream and cross-border collaboration, good financial management, and strong buy-in from all stakeholders. All of this needs a clear view of the task at hand and a strong commitment to building networks, communication, and preparedness. After all, disasters don't wait, and neither should preparedness.
Sharmila Dhungana is a Knowledge Management and Communication Associate at ICIMOD.
Images: Sharmila Dhungana / ICIMOD, and Rajesh Jha / Tilathi Koiladi Rural Municipality.